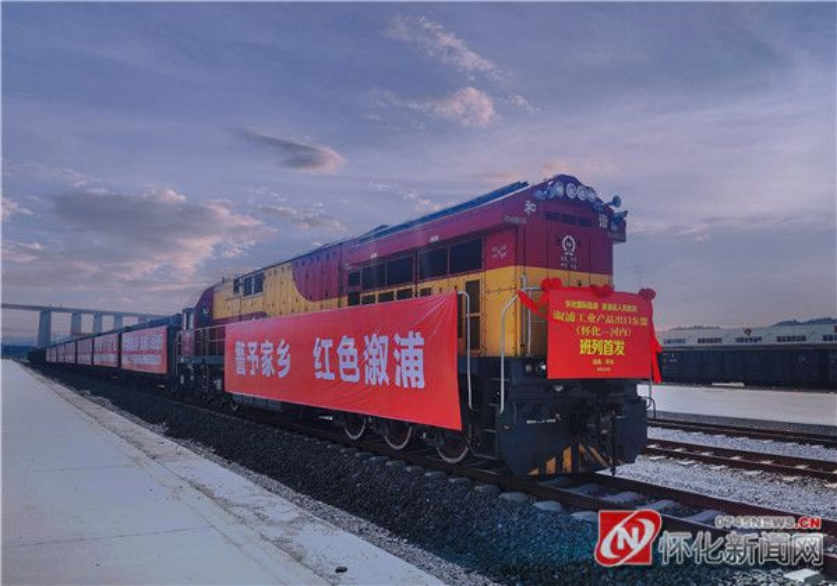 (0745news.cn) In the early morning of March 19, the No. 28013 international freight train of the Huaihua-Hanoi section of the China-Vietnam Railway of Xupu Industrial Development Zone blew its horn, departing Huaihua International Land Port and speeding southward to Hanoi of Vietnam. This is the first county-level China-Vietnam train of Huaihua in 2023. It was loaded with 20 TEUs of chemical products, industrial products, building materials and decorative materials produced in the industrial parks and chemical industrial parks in Xupu County, with a value of about RMB1.41 million. The train departed from Huaihua International Land Port, crossed the border through Pingxiang Port in Guangxi, and went all the way to Hanoi of Vietnam, with a total distance of around 1,300 kilometers.
The Party Committee and the People's Government of Xupu County have, guided by the instructions of the 20th National Party Congress, prioritized high-level opening up and high-quality development, so as to foster a new pattern of development and strengthen the county through industries. The authorities have taken coordinated steps to advance the strategic goal of "building one development zone, two industrial parks and two bases". They seek to form an industrial layout featuring "one leading industry, one characteristic industry and two supporting industries". Specifically, the authorities have gone all out to develop an industrial export circle in which deep processing of silicon materials serves as the leading industry, new chemical material as the characteristic industry, and cultural and creative sporting goods and non-metallic mineral mining as the supporting industries. In resource integration, technological empowerment, policy incentive and the development and utilization of the agricultural characteristic industry, the authorities have also launched a range of new initiatives, laying a good industrial foundation for the development of the county's export-oriented economy.
The launch of the China-Vietnam train also enables foreign trade enterprises to seize new opportunities from the international market and the products of Xupu to hit the international market. Going forward, Xupu will continue to take advantage of the Huaihua International Land Port, intensify efforts to explore the ASEAN international market, position its products in the market, open up production and marketing channels, and strive to conduct foreign trade cooperation with ASEAN countries on an ongoing basis.
(Translated by Yu Jie)